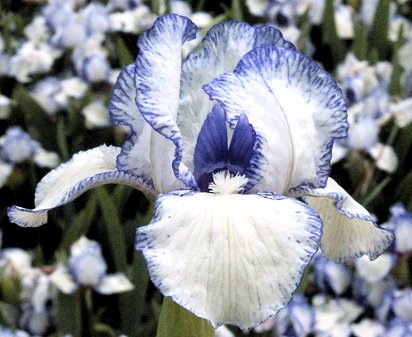 Standard Dwarf bearded Iris Stitch Witch (A. & D. Willott, R. 1975). SDB 13 1/2 inches (34 cm) E-M. S. white, neatly stitched blue-violet; blue-violet stylearms; F. white, neatly stitched blue-violet with a white beard. Carousel Princess X Gunga Din.
Reviews
Stitch Witch
1
Average rating:

Write a review
|
Read all reviews
Featured positive reviews:
Stitch Witch

Darling Little Bloom
05/18/2018
This iris is always the first to bloom in my garden in southern Michigan. It says !3 12 inches high, but mine are only about 7 inches max. They are spreading slowly. I almost gave it 4 stars because they don't last long once cut. But they are so perfect otherwise, i had to give them all five. i have them at the corners of my rectangular garden bed. Great clumping iris. No scent as far as i can tell.