Feed at Prevost Ranch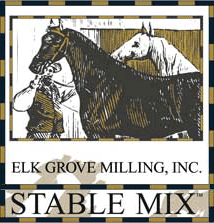 We are the Bay Area distributor for Elk Grove Milling Complete Horse Feed Products.
Pelleted Feed

Stable Mix (with or without G & C)
Stable Mix, Sr. (with or without G & C)
Sport Horse Mix
Cutter-Roper (higher protein)
GetGo for foals and weanlings up to 18 Months

Ultra Mate formulated for:

Working Horses
Stallions during breeding season
Mares lactating in last trimester of pregnancy
Foals

Ultra Mate includes Glucosamine and Chondroitin
Forage Pellet Products

Alfalfa and Oat
Oat Hay
Forage Mix
Alfalfa
Timothy

Also, feed for Goats, Cattle, Sheep, Llamas, Rabbits and Chickens
Delivery
Delivery rates are per ton. The one ton minimum/8 barrels, can be mix and match.
$20.00 local (San Jose/Fremont)
$35.00 other (Pleasanton/Gilroy)
Stable Mix, Senior Stable Mix, Sport Horse Mix, and Get Go are registered trade marks of Elk Grove Milling, Inc.
Product
50#
Bag
250# Barrel
Equivalent Bag
Stable Mix
Call
Call
Call
Sr.Stable Mix
Call
Call
Call
Sport Horse w/ G&C
Call
Call
Call
Ultra Mate
Call
Call
Call
Get Go
Call
Call
Call
Stable Mix plus G & C
Call
Call
Call
Sr. Stable Mix plus G & C
Call
Call
Call
Corral Mix
n/a
Call
Call
Sunshine Forage Pellets
call
call
n/a
Timothy Pellets
call
call
Thimothy Pellets
call
call
1/4 Alfalfa Pellets
call
call
Oat Pellets
call
50/50 Alfalfa & Oat
call
Rice Bran Pellets
call
Goat Mix Pellets
call
Rabbit Pellets
Call
Laying Pellets
call
Hen Scratch
call
Miscellaneous Supplies
| Product | Price |
| --- | --- |
| Amercias Choice Shavings (3.5 cu ft) | Call |
| Natures Best Stall Pellets (40 lbs) | Call |
| Plain Salt (50 lbs) | Call |
| Salt Trace Mineral (50 lbs) | Call |